Money Earning Apps: Online Without Investment
GroMo is one of the best Money Earning Apps without investment. Others include Fiverr, Upwork, etc. Which is the best Money Earning App?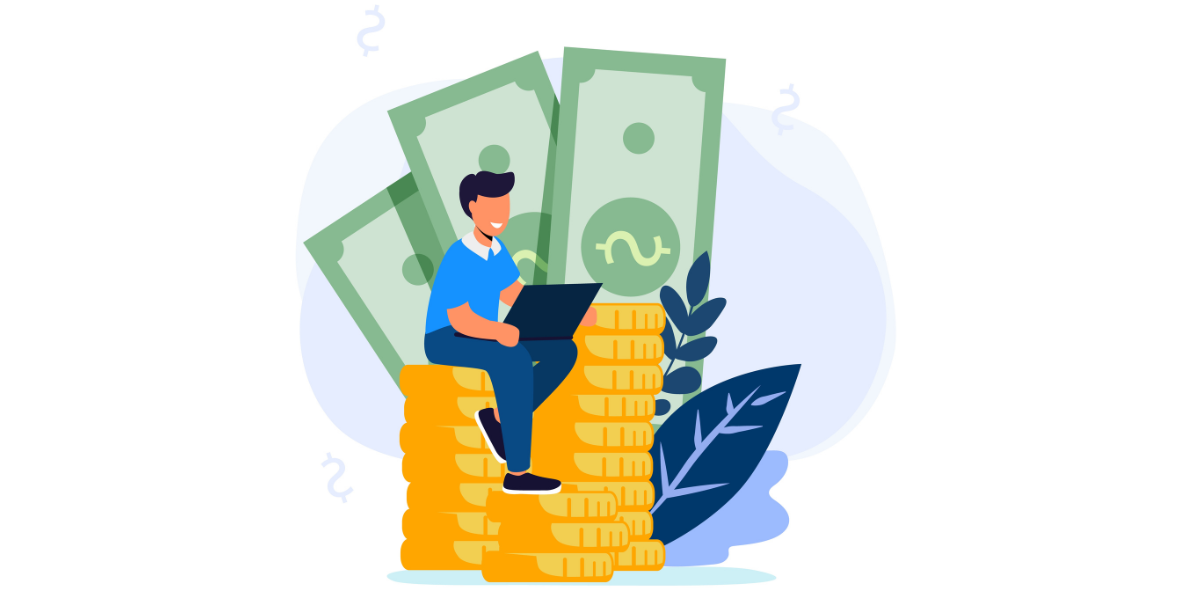 Earning money comes in diverse forms, with mobile apps emerging as a contemporary favorite. Within India's array of apps, there are ample opportunities to bolster your income. By uncovering these legitimate money earning apps in India and grasping their functionality, you can pinpoint the ideal choice for adding to your earnings.
Since you're here, it's evident you're interested in uncovering the best real money earning apps in India. For instance, GroMo provides an opportunity to potentially earn up to ₹1 Lakh per month. Now, let's delve into a carefully compiled list of money earning apps and websites that could become an extra income source.
In this blog post, we'll explore the following subjects:
What is Money Earning Apps?
Different Types of Real Money Earning Apps in India
Detailed Explanation of the Best LIC Policy
Key Considerations for Using Money Earning Apps
How to Earn with Real Money Earning Apps in India?
GroMo
Fiverr
Roz Dhan
Upwork
Google Opinion Rewards
...and much more. Here, you'll discover in-depth explanations of the Best money earning apps and guidance on making the right choice.
Let's get started,
What is Money Earning Apps?
Money earning apps in India is essentially mobile application designed to offer users the chance to earn money by engaging in a variety of activities.
These activities can encompass a wide range, including playing games, participating in surveys, completing specific tasks, and even exploring investment possibilities. The primary motivation for users is the prospect of receiving tangible rewards in return for their participation in the app.
Typically, these rewards are delivered as cash payments, gift cards, or other valuable perks. The central idea revolves around users dedicating their time and expertise to fulfill tasks or meet specific criteria outlined by the app's creators or sponsors. In return, users receive tangible benefits, offering them a chance to boost their income or acquire various products and services. India boasts a wide array of real money earning apps, tailored to cater to a diverse range of preferences and interests.
Also Check Out:
Different Types of Real Money Earning Apps in India
Survey Apps: These money earning apps dedicated to earning money provide users the chance to earn cash or trade their opinions for gift cards by actively engaging in surveys. They frequently shine as leading choices for generating income without any upfront financial commitment.
Cashback Apps: These money earning apps that help you earn money offer users a portion of their spending back, usually in cash or rewards, when they shop at partner stores.
Referral Apps: These money earning apps enable you to generate income by referring the app to friends and family. You earn a commission when they sign up through your referral link.
Freelancing Apps: These apps that help you earn money offer freelance opportunities in diverse fields like writing, design, development, marketing, and more. These platforms link freelancers with a wide variety of projects and clients in search of their skills and knowledge.
Gig Economy Apps: These money earning apps are designed for the 'gig economy' to empower their users to discover avenues for freelance or independent work, which may encompass roles like driving, delivering parcels, or providing various services.
Sell and Earn Apps: These money earning apps allow you to offer various services or products online and earn substantial commission rewards. Primarily, these tend to be among the top money earning apps without requiring an initial investment.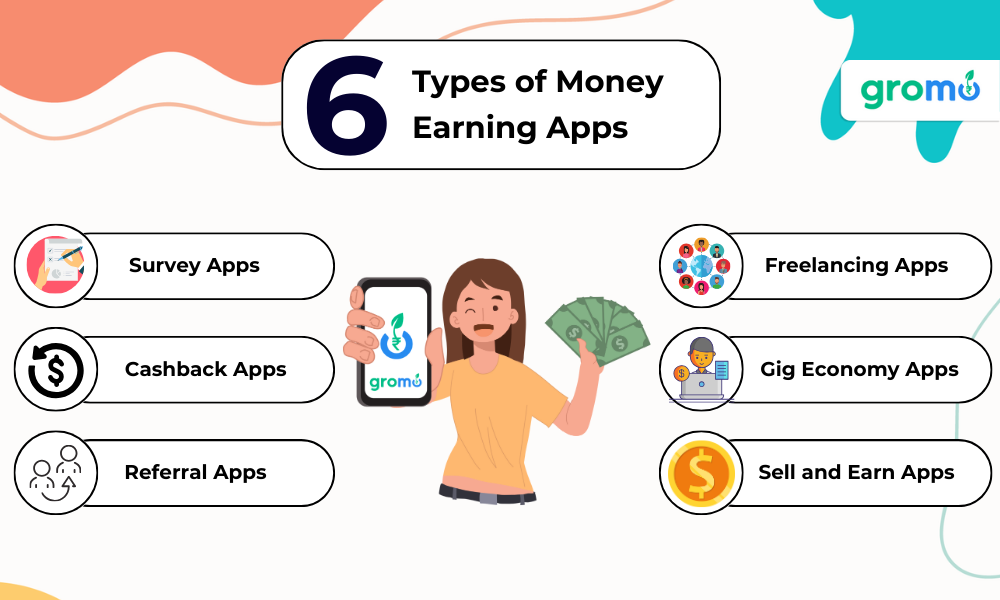 Key Considerations for Using Money Earning Apps
Before signing up, do thorough research on the money earning apps and take a look at user reviews and comments.

Make sure to thoroughly examine the Terms and Conditions of money earning apps.

Stay vigilant for apps that ask for an initial fee, as genuine money earning apps should offer free membership.
Earning with Authentic Money Earning Apps in India: How It Works
Affiliate programs, cashback rewards, gaming for real money apps, and referral schemes are all examples of apps that can bolster your income. Furthermore, the unique methods each app employs to operate and interact with its user base add to the fierce competition in this field.
Most of these income-generating apps use a user loyalty system to incentivize active participation. Additionally, the fundamental principle across most real money earning apps is to encourage users to earn income by fulfilling assigned tasks.
As a user, you have the autonomy to decide how to allocate your earnings obtained through these real money earning apps. You have the choice to either deposit them directly into your bank account, transfer them to Paytm or an alternative wallet, or convert them into gift cards. This redemption process may vary from one money earning app to another in the realm of daily money earning apps.
Also Check Out:
Best Money Earning Apps in India
1. GroMo:
How it works: GroMo is a verified zero-investment business app. It's a refer and earn money app where you can sell 100+ reputed financial products to earn a regular income and become a financial advisor. Gromo stands out among money earning apps for its remarkable payouts.
Here, you can seize the chance to become a financial agent and market an array of financial products from well-known banks such as Kotak 811, Axis Bank, HDFC Bank, IDFC FIRST Bank, Yes Bank, SBI, and more, all while earning money with zero initial investment
Here, you'll find an extensive inventory of all the financial products ready for purchase on Gromo:
Insurance
Credit Cards
Personal Loan
Savings Account
Demat Account
Credit Line
UPI
Investment
Anyone looking to explore a fresh income stream through money earning apps, whether you're a financial advisor or a working professional, or a business owner, you can use this online money earning app.
Begin building a consistent online income by becoming a GroMo partner.
Payment Method: Your earned commissions will be placed directly into your in-app wallet, and you can effortlessly transfer these funds to your bank account whenever you prefer. Undoubtedly, this makes it one of the most unique money earning apps on the internet.
2. Fiverr:
How it works: Fiverr serves as a freelance platform that spans over 200 categories. To get started, create an account, and then designate yourself as a 'seller', showcasing your expertise. Next, list the services you're offering as a 'gig', specifying your pricing and providing a description. Prices can range from $5 to $995. Clients, known as 'buyers,' can explore and request your services. You receive payment upon task completion. Fiverr assigns seller levels based on your performance, allowing you to provide additional 'extras,' such as faster delivery times, as you advance through each tier.
Fiverr deducts a 20% fee from your earnings for each gig, including tips. Additionally, there's a standard 14-day waiting period to withdraw your earnings after completing an order. For sellers at the top tier, funds become accessible after a seven-day waiting period for processing. Fiverr, which is one of the best real money earning apps, provides freelancer a chance to earn their living.
Below, you'll discover a comprehensive list of all the services available for purchase on Fiverr:
Graphics and Design
Digital Marketing
Writing and Translation
Video and Animation
Music and Audio
Photography
Data
Lifestyle
Business
Programming & Tech
Payment Options: You can receive payment through PayPal, direct to your bank account, or as credit on a Fiverr Revenue Card (a prepaid card). The minimum withdrawal amounts differ, and there could be a withdrawal fee depending on your chosen option.
3. Roz Dhan:
How it works: Roz Dhan offers a simple way to earn money through regular app usage. As one of the top real money earning apps, you can earn while gaining knowledge. This entails making money by participating in different activities like reading news, browsing websites, solving puzzles, and checking your daily horoscope. Additionally, you can also earn real cash by playing free games and winning.
As a bonus, every new sign-up is greeted with a warm welcome in the form of a ₹50 bonus. With Roz Dhan, making money becomes an accessible and enjoyable experience, integrating fun and functionality into your daily routine on this real money earning app.
Payment Method: After completing the 'instant cash tasks,' you can potentially accumulate up to ₹300. You can promptly withdraw this amount within two days and transfer it to your bank account
4. Upwork:
How it works: Upwork serves as one of the best real money earning app linking freelancers to opportunities across various domains like writing, design, and marketing. To begin, create a profile where you'll showcase your skills, availability, and the payment you desire.Following this, you can submit proposals for projects, and clients will evaluate your suitability before extending offers.
Each month, you begin with a predefined allotment of 'Connects', acting like credits that enable you to reach out to potential clients. You can obtain extra Connects for a minor cost, and you won't face charges when clients reach out to you. You can choose to be paid either by the hour or for each project, providing you with flexibility in how you earn through money earning apps.
Payment Options: You can receive payments on Upwork through direct bank transfers, wire transfers, Instant Pay, PayPal, and Payoneer. Please review Upwork for specific details regarding associated charges with certain payment options.
5. Google Opinion Rewards:
How it works: In this real money earning app you can earn rewards through Google's Opinion Rewards app by answering Simple questions such as selecting the best logo or indicating your preferred advertisement. Your rewards are provided in the form of Google Play credits, which can be used to download paid apps. The initial setup process is user-friendly, and you can expect to receive surveys on a weekly basis. In this real money earning app, you have the freedom to select the surveys you wish to participate in and accumulate rewards as you engage. It's a simple and advantageous way to make the most of your free time while earning credits for enjoyable app downloads.
Payment Method: Google Opinion Rewards typically provides payment in the form of Google Play credits. Users collect these credits by engaging in surveys and can exchange them for a variety of paid apps, games, movies, books, or other content accessible on the Google Play Store. Google Opinion Rewards doesn't offer cash payments or direct transfers to bank accounts; instead, it provides credits that can be used within the Google Play ecosystem.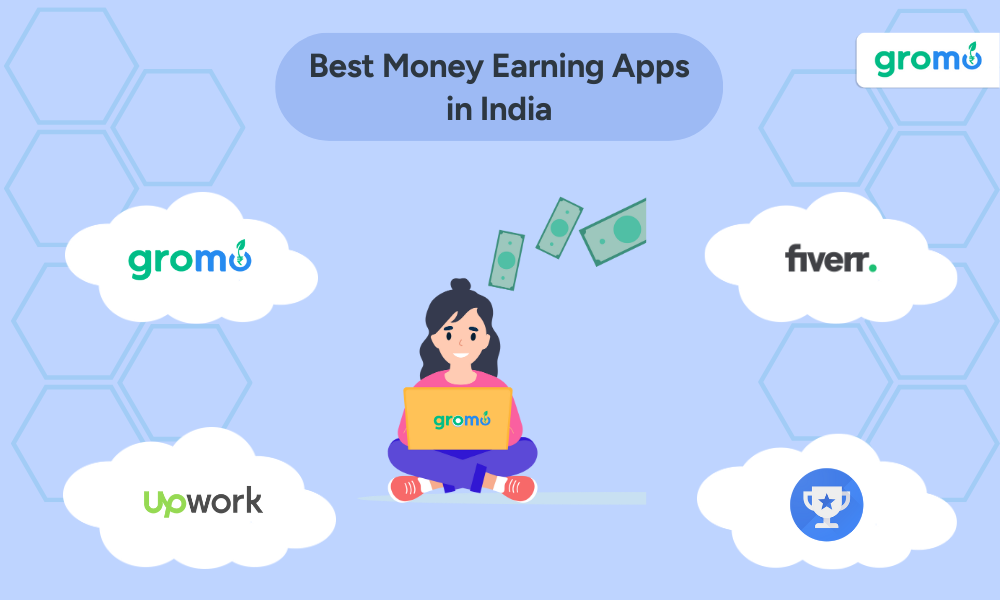 KEY TAKEAWAYS:
1. GroMo: This is among the top verified zero-investment money earning apps. Refer, sell 100+ financial products, earn commissions, and become an advisor. Withdraw earnings in one click.
2. Fiverr: A money earning app with 200+ categories. You receive payment upon completing buyers' orders. You can withdraw your earnings via PayPal.
3. Upwork: It is a Freelancer platform for writing, design, marketing.You need to establish your profile, outline your abilities, and determine your rates.
4. Google Opinion Rewards: Using the Google Opinion Rewards app, you can accumulate Google Play credits by responding to straightforward questions and receiving credits for app downloads. Google Opinion Rewards pays with Google Play credits earned from surveys.
5. Roz Dhan: It simplifies earning through everyday app use, from reading news to horoscopes and solving puzzles. Complete instant cash tasks and earn up to ₹300.