How to Open a Savings Account: In 5 Easy Steps
Learn how to open a savings account online and offline with our step-by-step guide. Discover the benefits of a zero balance savings account.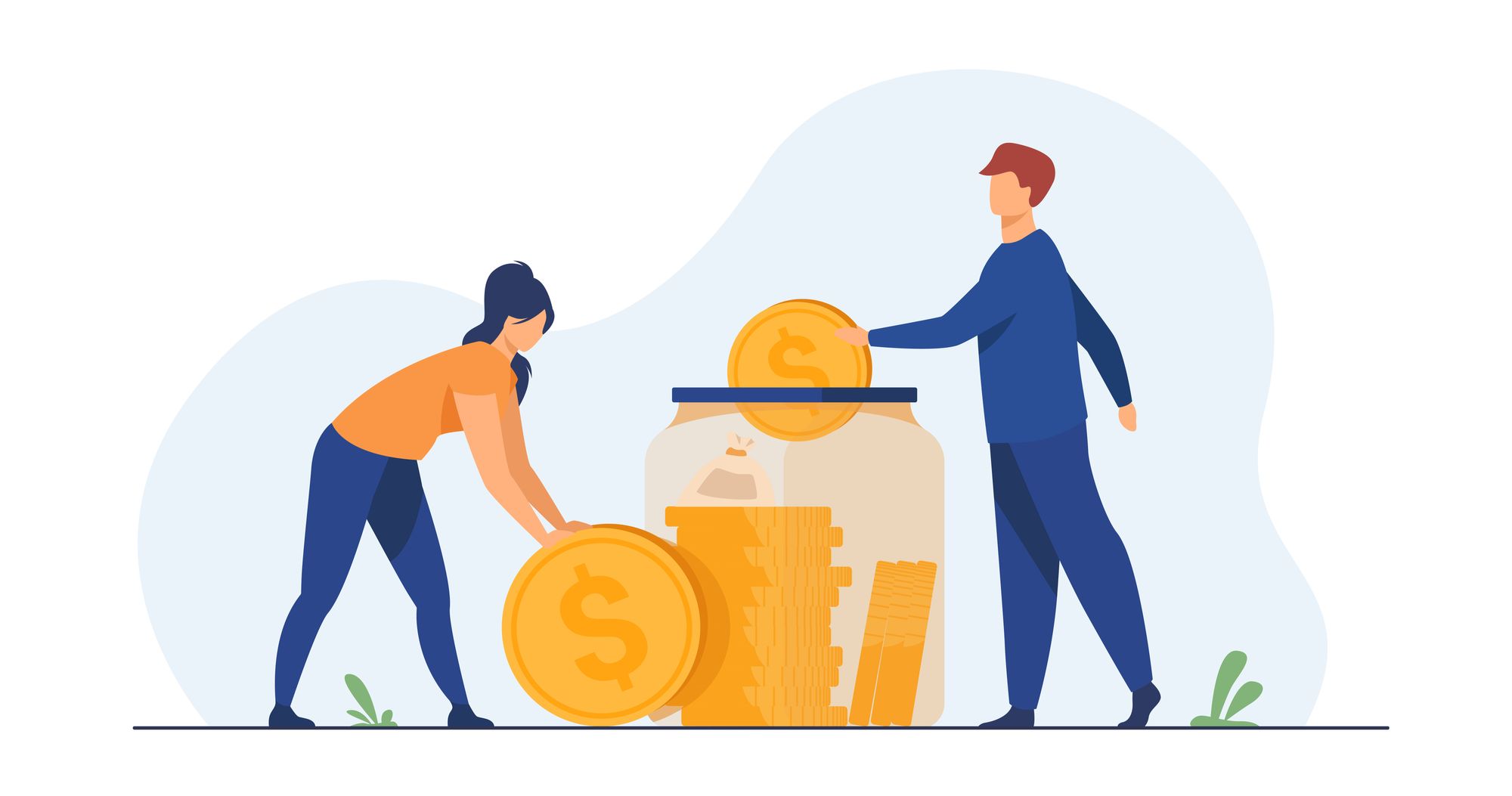 Opening a savings account is an essential financial step for anyone looking to securely tuck away their funds while also earning interest.
Not only does opening a savings account provide a cushion for emergencies or future aspirations, but it also paves the way for disciplined saving habits.
With a multitude of banks and credit unions offering various benefits, it's crucial to navigate the process with an informed approach.
With GroMo, opening your savings account is a breeze, and you'll also receive unique rewards that are unparalleled elsewhere.
So what are you waiting for Download Now!!
By understanding the requirements, comparing different institutions, and leveraging online banking tools, you're well on your way to optimizing your financial growth.
Dive into our blog to learn the streamlined steps and tips for kickstarting your savings journey.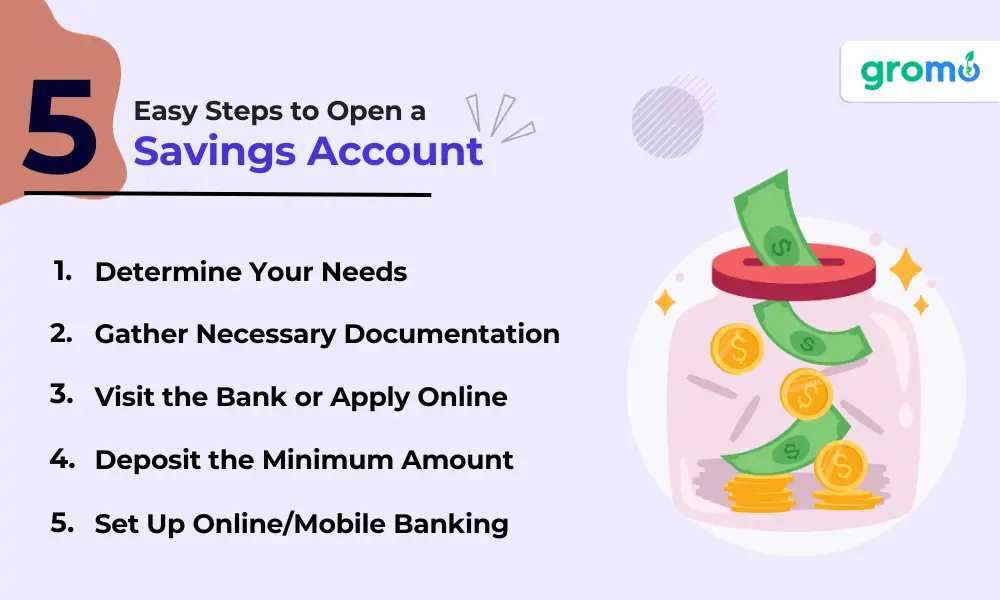 5 Steps to Open a Savings Account
Opening a savings account is straightforward at numerous financial institutions, though it often involves multiple stages.
Step 1: Research and Determine Your Needs
Before diving into the process of opening a savings account, it's imperative to take a step back and assess your individual needs. Your savings account should align with your financial objectives and lifestyle.
Here's a breakdown:
Purpose of Savings:

Emergency Fund: This is money set aside for unexpected events such as medical emergencies or sudden unemployment.
Specific Goals: Saving for a particular objective like buying a home, a vacation, or a wedding.
General Savings: A pool of funds not designated for a specific purpose but kept aside for future use.

Account Features:

Interest Rate: This is the amount a bank pays you for keeping your money with them. A higher interest rate can lead to significant earnings over time.
Accessibility: Consider how easy it is to withdraw funds. Do you prefer an account where you can easily access your money or one that discourages frequent withdrawals?
Fees and Charges: Some accounts might have monthly maintenance fees, withdrawal penalties, or other charges. Determine what you're comfortable with.
Additional Features: Some banks offer added perks such as reward points, cashback, or linked accounts.

Personal Lifestyle:

Reflect on your savings habits. If you're a frequent saver, you might want an account that rewards regular deposits. On the other hand, if you're looking to park a sum for a long duration, focus on accounts that offer higher interest rates for larger balances.
By evaluating these aspects, you ensure that the savings account you choose is tailored to your financial situation, helping you achieve your monetary goals efficiently.
Step 2: Gather Necessary Documentation
The documentation required to open a savings account can vary depending on the bank and the country's regulations. However, here's a more detailed breakdown of the typical documents you might need:
1. Identification (Proof of Identity):
Primary ID: This is usually a government-issued photo identification. Examples include:

Passport
Driver's License
National ID card
Military ID

Secondary ID: Some banks might ask for a second form of identification, especially if the primary ID doesn't have a photograph. Examples include:

Birth certificate
Social Security card
Voter's registration card
2. Proof of Address (Proof of Residency):
This confirms where you live. Commonly accepted documents include:
Utility bills (e.g., electricity, water, or gas bill)
Rental agreement or lease
Mortgage statement
Recent bank or credit card statement with your address
Official government correspondence showing your address
3. Social Security Number (SSN) or Tax Identification Number (TIN):
This is primarily for tax purposes and identity verification.
Non-residents might provide an Individual Taxpayer Identification Number (ITIN) or another equivalent, depending on the country.
4. Additional Documentation (if applicable):
For Minors: If the savings account is for someone under the legal age, additional documents like a birth certificate and a guardian's ID might be required.
For Non-residents or Foreign Nationals: Some banks might ask for additional documentation like visa details, foreign passports, or proof of employment or study in the country.
5. Application Form:
Most banks will provide an application form where you'll fill in personal details, employment information, and other relevant data. Ensure you read and understand all terms before signing.
Before heading to the bank or applying online, it's a good idea to call ahead or check the bank's website to confirm the exact documentation required. This ensures a smooth and efficient account opening process.
Also, check these out
Step 3: Visit the Bank or Apply Online
The process of opening a savings account can either be done in person at a bank branch or online, depending on the bank's offerings and your preference.
Here's a detailed breakdown of both methods:
1. Visit the Bank (In-Person):
Locate a Branch: Find the nearest branch of the bank where you want to open a savings account. Some banks have multiple branches, so choose one that's convenient for you.

Meet with a Bank Representative: Once at the bank, you'll be directed to a bank representative or personal banker. They will guide you through the savings account opening process, answer any questions you might have, and provide you with the necessary forms to fill out.

Provide Documentation: Present all the required documents (ID, proof of address, etc.) to the bank representative. They will make copies and might ask additional questions to verify your identity and suitability for the savings account.

Initial Deposit: If the bank requires an initial deposit to open the savings account, you'll be asked to provide it at this time. This can be in the form of cash, a check, or a transfer from another account.

Receive Account Details: Once the savings account is successfully opened, you'll receive an account number and other relevant details. Some banks might also provide you with a temporary checkbook or an ATM/debit card on the spot, while others might mail these to you.
2. Apply Online:
You can apply for savings account online by following the steps given below:
Visit the Bank's Official Website: Ensure you're on the bank's legitimate website to avoid scams or phishing sites. Look for "https://" at the beginning of the web address and a padlock symbol in the browser's address bar as signs of a secure site.

Find the 'Open an Account' Option: Most bank websites have a clear call-to-action for opening a new savings account. Click on it to start the process.

Choose the Type of Account: If the bank offers multiple types of savings accounts, select the one that best suits your needs.

Fill Out the Application Form: You'll be prompted to enter personal details, employment information, and other relevant data. Ensure all information is accurate to avoid any issues.

Upload Documentation: Most online applications will require you to upload scanned copies or clear photos of your required documents (ID, proof of address, etc.).

Initial Deposit: Some banks might ask for an electronic transfer for the initial deposit. This can be done via a credit/debit card or by transferring funds from another bank account.

Confirmation: Once you've submitted the application, you'll typically receive a confirmation email or message. The bank might take a few days to review the application and documents. Once approved, they'll send your savings account details, and any physical items (like a debit card or checkbook) will be mailed to your address.
Whether you choose to visit the bank in person or apply online, always ensure you understand the terms and conditions associated with your savings account, including any fees or charges.
We're here to assist you with the savings account opening process; you're just one step away. Check out GroMo app now!
Step 4: Deposit the Minimum Amount (if required)
When opening a savings account, many banks have a stipulation that requires you to deposit a certain minimum amount to activate the account. This is known as the "minimum deposit."
Purpose: The minimum deposit serves multiple purposes. For banks, it's a way to ensure that the savings account will be used and isn't just being opened and left dormant. For customers, it's an initial step towards saving and growing their funds.

Amount: The exact amount varies from one bank to another and can range from a nominal sum to a more substantial amount. Some premium or specialized savings accounts might have higher minimum deposit requirements.

Impact: If you don't deposit the minimum required amount, the bank might not activate your savings account. Or, if the savings account is opened with a promise to deposit the minimum amount later and you fail to do so within a stipulated period, the bank might levy charges or even close the account.

Ongoing Requirements: Apart from the initial deposit, some banks also have a "minimum balance" requirement. This means you need to maintain a certain balance in your account to avoid fees. If your balance drops below this threshold, you might incur a penalty.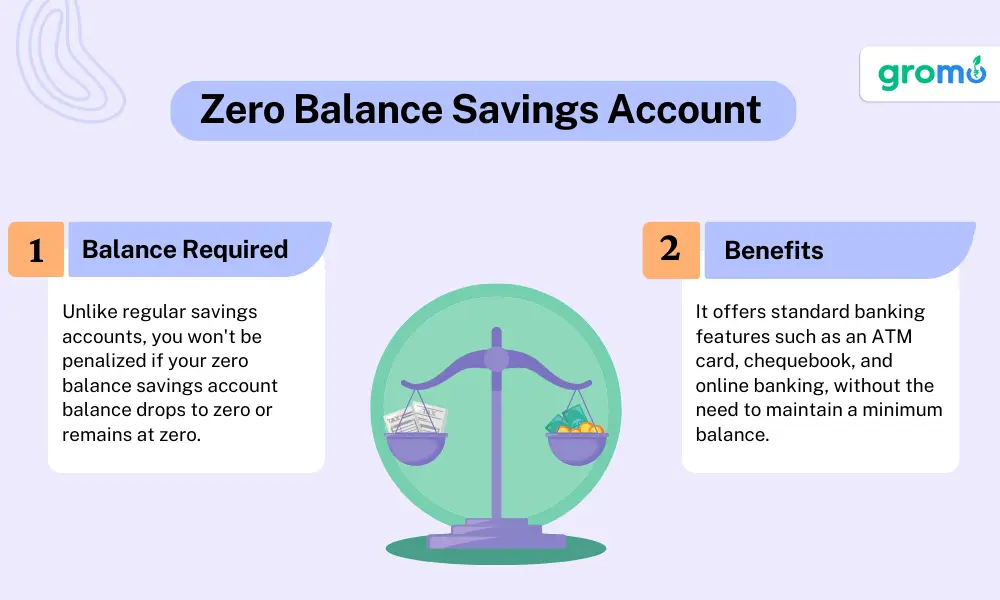 Zero Balance Savings Account:
A zero balance savings account, as the name suggests, is a type of savings account where you're not required to maintain a minimum balance.
Here's what you need to know:
No Minimum Balance Requirement: Unlike regular savings accounts, you won't be penalized if your zero balance savings account balance drops to zero or remains at zero.

Purpose: Zero Balance Savings Account is often designed to promote financial inclusion, making banking accessible to all, especially those who might find it challenging to maintain a minimum balance.

Features: While a zero balance savings account offers the primary benefit of no minimum balance, it might come with other restrictions, such as a limit on the number of transactions per month or reduced interest rates.

How to Open: Many banks offer zero balance savings accounts as part of specific schemes or promotions. For instance, in some countries, the government might collaborate with banks to offer zero balance savings accounts to underprivileged sections of society.

Benefits: Apart from the obvious benefit of not having to worry about maintaining a minimum balance, zero balance savings account often comes with standard banking facilities like an ATM card, chequebook, and online banking.
When choosing between a regular savings account and a zero balance savings account, consider your financial habits, the benefits each account offers, and any associated fees or restrictions.
Also, check these out
Step 5: Set Up Online/Mobile Banking and Alerts
Setting up online/mobile banking and alerts is a crucial step to ensure you can manage your finances of savings account conveniently and stay informed about your savings account activity.
Here's a detailed breakdown of the process:
1. Set Up Online Banking:
Registration: Most banks require you to register for online banking. This can often be done on the bank's official website. You'll typically need your account number, Social Security Number (or equivalent), and other personal details.

Username & Password: During registration, you'll be prompted to create a username and a strong password. Ensure your password is unique and contains a mix of letters, numbers, and symbols for security.

Security Questions: Some banks will ask you to set up security questions and answers. These are additional layers of security to verify your identity if you forget your password or if there's unusual activity on your savings account.

Login: Once registered, you can log in to the bank's online portal using your username and password to access and manage your savings account.
2. Set Up Mobile Banking:
Download the App: Most banks offer a mobile banking app. Ensure you download the official app from a trusted source like the App Store (for iOS devices) or Google Play Store (for Android).

Login or Register: If you've already set up online banking, you can usually log in to the mobile app with the same credentials. Some banks might require a separate registration process for mobile banking.

Mobile Features: Mobile banking apps often come with features like mobile check deposit, where you can deposit a check by taking its photo, or digital wallets for contactless payments.
3. Set Up Alerts:
Access Alert Settings: Both online banking portals and mobile banking apps typically have a section dedicated to alert settings or notifications.

Types of Alerts: You can choose from various alert types, such as:

Balance Alerts: Get notified if your balance goes above or below a certain amount.

Transaction Alerts: Receive notifications for large transactions or unusual activity.

Login Alerts: Be informed every time someone logs into your account.

Bill Payment Reminders: Get reminders for upcoming bills or when a bill is due.

Delivery Method: Decide how you want to receive these alerts. Options often include email, SMS/text messages, or push notifications from the mobile app.

Customization: Some banks allow you to customize the thresholds for alerts. For instance, you can set an alert for any transaction over a specific amount.
Key Takeaways
A Savings Account is a bank account that earns interest on deposits. It's designed for individuals to save and grow their money.
Step 1: Assess your financial goals and the account's features, such as interest rates, accessibility, and fees.
Step 2: Gather essential documents like government-issued IDs, proof of address, and your Tax Identification Number.
Step 3: You can either visit a bank branch in person or apply online through the bank's official website, where you'll provide the necessary documents.
Step 4: Banks often require a minimum deposit to activate the account, ensuring its use and encouraging savings.
Step 5: Set up online/mobile banking allows you to manage your finances digitally, and activating alerts ensures you're promptly notified of savings account activities.
A Zero Balance Savings Account is a type of bank account where there's no requirement to maintain a minimum balance.