Importance Of Health Insurance: Why You Should Buy It?
Health insurance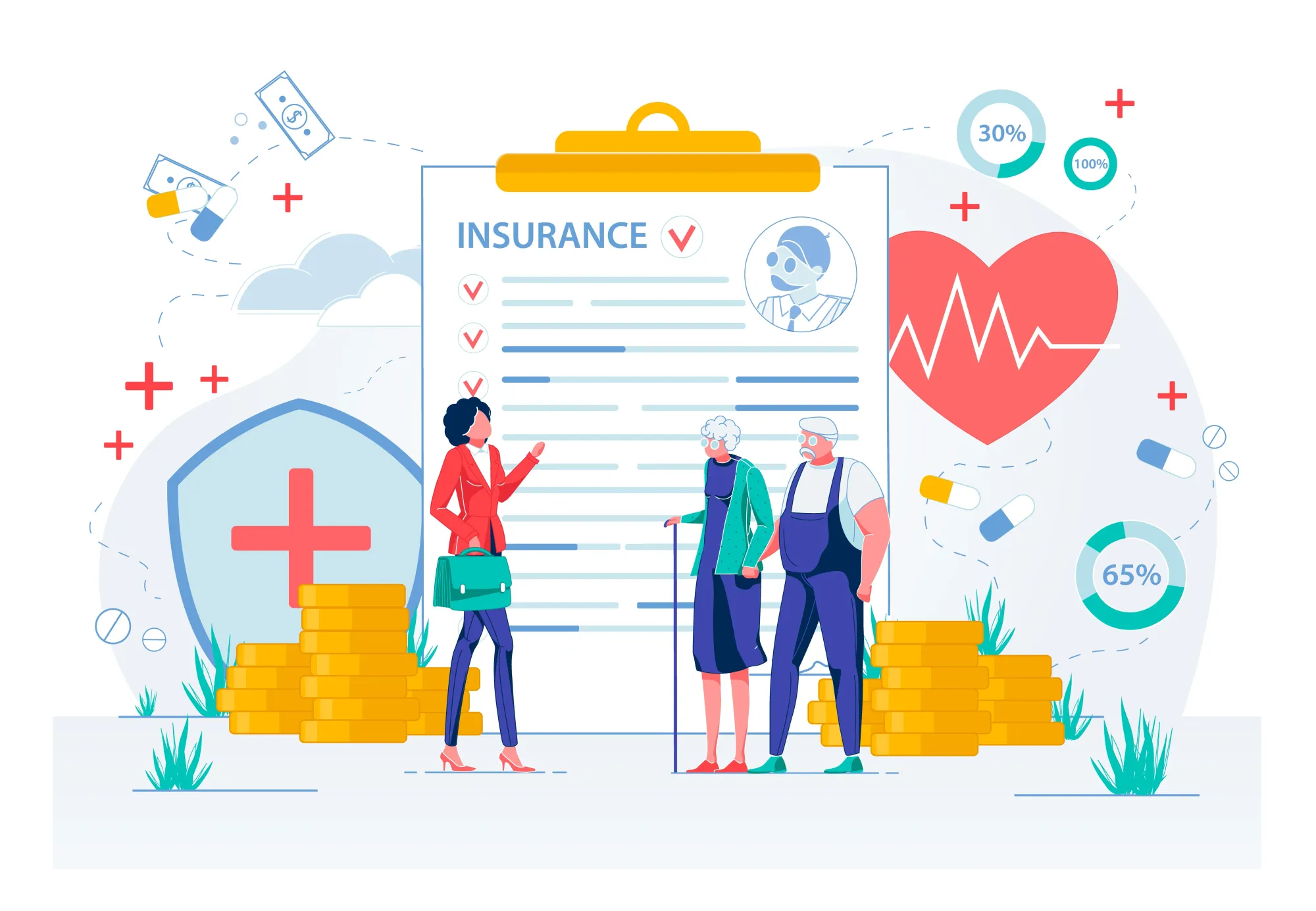 "Without health insurance, getting sick or injured could mean going bankrupt, going without needed care, or even dying needlessly."
- Jan Schakowsky
In our hectic lives, there's always a risk of getting sick and needing costly treatment. The coronavirus pandemic has caused the world to wake up to the fact that medical emergencies are unpredictable and can lead to a financial crisis that is difficult to manage.
There's always a small chance that someone close to us could be suffering from a long-term illness that requires care. With the prevalence of infection and the lack of a successful vaccine, people have begun to recognize the importance of health insurance in India.
In addition, with the increasing cost of healthcare, access to quality care and hospital costs can be very expensive. This is why having a health insurance policy for yourself and your loved ones can be the safeguard you need at a time like this.
Health insurance guarantees that long-term treatment doesn't put a family's financial future in jeopardy. You can get a comprehensive health insurance policy by paying a lump sum to the insurer. This will protect your savings from the unexpected costs of medical care.
In other words, health insurance protects your savings so you and your loved ones can keep living life to the fullest.
But before we move forward, if you are a financial advisor and want to sell insurance, then GroMo is the app for you. You can sell different types of insurance through the GroMo App by becoming a GroMo Insure Agent.
In this blog, we'll discuss the importance of health insurance in India, the importance of health insurance scheme - Pradhan Mantri Jan Arogya Yojana (PM-JAY), the importance of health insurance for employees, and much more.
So, let's dive deep!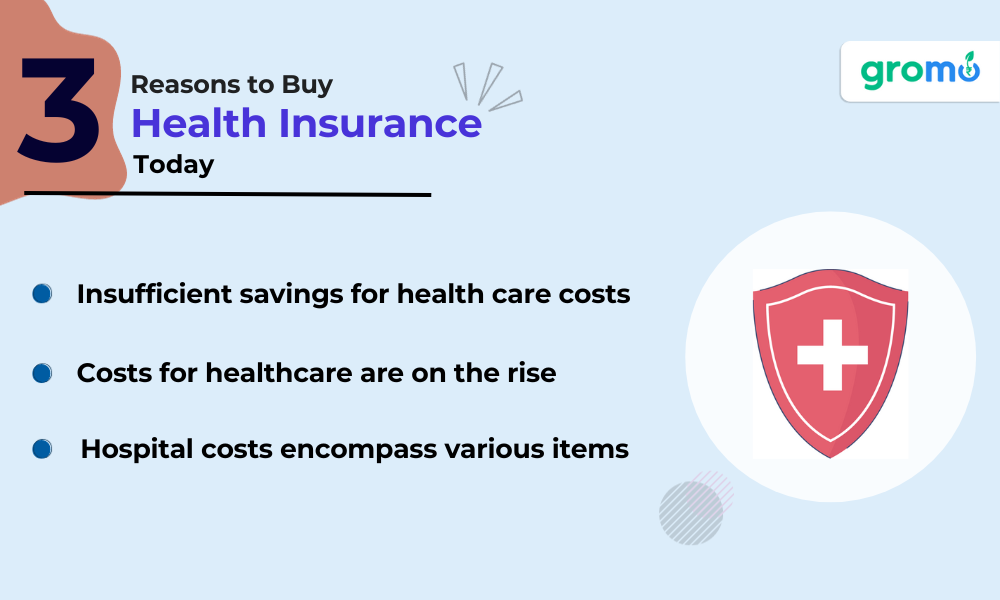 The Importance Of Health Insurance In India
Nobody wants to be in a situation where they have to rely on someone else to pay for their healthcare. That's why there's an increasing need to prepare financially ahead of time for situations like this. Several reasons increase the importance of health insurance in India. Let's look at some of the reasons:
1. You don't have enough money saved up to pay for health care
It costs a lot of money to get treated at one of the top hospitals. When a loved one is diagnosed with a life-threatening illness, many people find it difficult to keep track of their finances. As per ICICI Prudential, more than 44% of the Indian population does not have health insurance.
In these cases, patients dip into their emergency funds, take out loans, or sell possessions to pay for treatment.
2. Costs for healthcare are on the rise
Because medical expenses are increasing at a very rapid rate, health insurance is a necessity. In the case of India alone, it is predicted to increase at a rate that is twice the rate of inflation. The medical trend rate in India is predicted to be 10% while the inflation rate in India is expected to be ~5%, as per ICICI Prudential.
Cancer and circulatory diseases are still the top two largest claims reported by the majority of insurance companies, followed by gastrointestinal illnesses and respiratory illnesses.
3. Hospital expenses cover a wide range of items
Hospital treatment isn't just about surgery. The cost of medical examinations, doctor's bills, and medications can also be higher than the actual cost of hospital admissions. Separate from this are diagnostic tests and post-operative treatment, such as home medical care, which can also be expensive.
Add it all up and you'll see why healthcare costs are so high.
Also Check Out:
The Importance Of Health Insurance Scheme: PM-JAY
The Pradhan Mantri Jan Arogya Yojna is commonly known as PM-JAY. It is the second component of the Ayushman Bharat Scheme. Shri Narendra Modi launched the scheme on September 23rd, 2018 at Ranchi, Jharkhand.
PM-JAY, the world's largest health insurance scheme, aims to provide Rs. 5 Lakhs per family per year for secondary and tertiary care hospitalization to more than 12 crore poor and vulnerable families (approximately 55 crore beneficiaries) belonging to the lowest 40% of the population of India.
The categories of households are based on the socio-economic caste census 2011 (SECC 2011) deprivation and occupation criteria for rural areas and urban areas. The PM-JAY was formerly known as the National Health Protection Scheme (NHPS). The scheme was established based on the Rashtriya Swayamsevak Sangh (RSBY), which had been set up in 2008.
For example, the PM-JAY coverage includes families that were included in the RSBY coverage but aren't listed in the SECC 2011 database. The PM-JAY program is fully financed by the Government of India and implementation costs are shared between the central and state governments.
Two Key Features of PM-JAY are:
PM-Jay is the largest government-sponsored health insurance program in the world.
It provides coverage of up to Rs. 5 Lakhs per family per year for secondary and tertiary care hospital stays in all impaneled public and private hospitals in India.
So, now do you understand the importance of health insurance?
It is important to a level where the Government of India is providing it to the people who cannot afford secondary and tertiary level health care for themselves.
Now, if you don't have health insurance for yourself and your family, then get one today!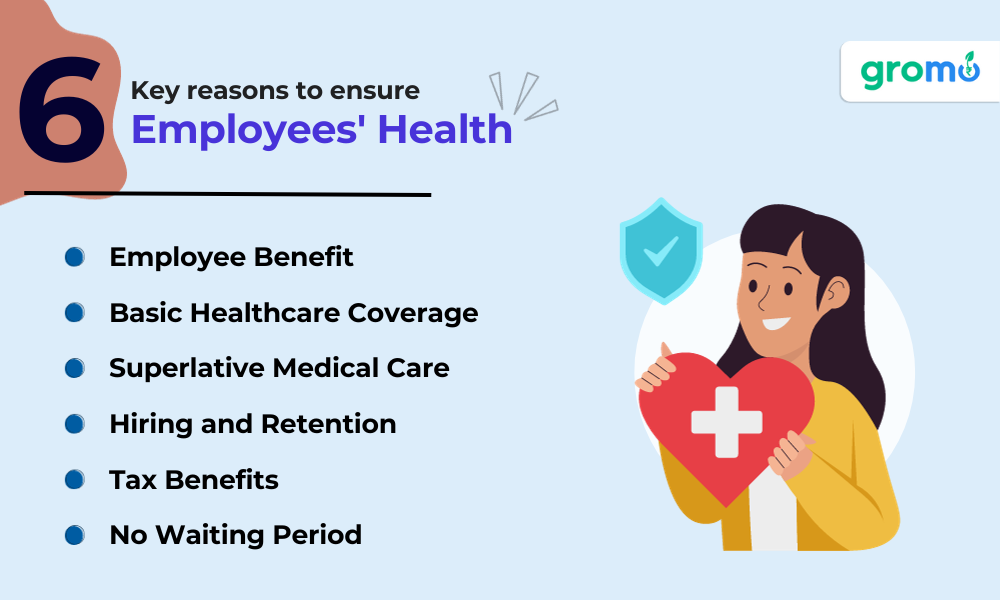 The Importance Of Health Insurance For Employees
First, let's understand - What is Employee Benefit Health Insurance?
Employee benefit health insurance is a health insurance policy provided by a company to its employees. One of the most important aspects of Employee Benefit Health Insurance is providing peace of mind to the employees. In addition to providing financial stability to employees, it also provides benefits to their families in the event of unexpected circumstances.
In this case, the employer pays the health insurance premium, either in part or in full. Here are the top 6 reasons that define the importance of health insurance for employees:
1. Employee Benefit: An Employee Health Insurance Policy (EHIP) is one of the most important benefits an organization can offer to its employees, especially if they don't have access to individual health insurance.
2. Basic Healthcare Coverage: Employee Benefit Health Insurance provides basic health insurance benefits to employees.
3. Superlative Medical Care: If the employee is covered by the policy and requires hospitalization, they can be admitted to a network hospital.
4. Hiring and Retention: While this benefit may not be the only reason an employee joins or remains with the company for an extended period, it certainly helps.
5. Tax Benefits: Employee Benefit Health Insurance premiums can be used by companies to qualify for tax benefits.
6. No Waiting Period: While individual plans have a waiting period of more than 12 months, this is not the case with Employee Health Insurance (EHI). An example of EHI is Maternity Cover.
So, if your company offers health insurance, make sure you take it and use it if required.
Also, if you want to earn up to ₹1 Lakh every month by selling different types of insurance to your customers, then check out the GroMo App. Become a GroMo Insure Agent and start selling insurance!
The Importance Of Health Insurance For Women
In India, the trend is shifting in the opposite direction, as most working women are educated enough to look after themselves and understand the importance of health insurance cover. Today, many health insurance plans are made to cater specifically to women.
Most health insurance policies in India meet the emerging health requirements of women. Some benefits include higher sum insured, cancer cover, Ayurveda cover, and many more such benefits. You can always search for a Family Health Insurance plan to include your daughter and spouse or a Parents plan to include your mother.
Let's take a closer look at the various types of health insurance with critical illness cover available such as cancer or a major organ transplant. If you need health insurance for a 63-year-old woman, you can select from Health Insurance For Senior Citizen plans.
In addition, some companies offer health insurance policies for single women too. There are also plans for women that provide health insurance with critical illness cover for as many as 15 critical illnesses. These policies provide a lump sum payment in one transaction to cover expenses associated with medical treatment.
Having health insurance with critical illness cover on top of your existing health plan is a great way to get broader coverage. Since these are benefit plans, women get the amount in a lump sum as a single transaction on the initial diagnosis.
So, if you are a woman who wants to buy a health insurance plan for yourself, you can check out the various health insurance plans that cater specifically to women.
Also Check Out:
Smoking And Health Insurance: Facts
One of the biggest diseases in India is smoking. According to the Global Adult Tobacco Survey India conducted in 2016-17, India has a population of nearly 267 million tobacco users. Many smokers don't have health insurance, despite the health risks associated with smoking.
The truth is, that the majority of Indians believe the myth that health insurance for smokers doesn't exist.
But the truth is that you can get health insurance if you are a smoker.
In India, several insurance companies provide health insurance for smokers. The Insurance Regulatory & Development Authority of India (IRDAI) has even mandated insurance companies to provide smoking-friendly health plans. Insurance providers define a smoker as a person who - uses, inhales, or attempts to inhale tobacco products more than four times per week, including cigarettes and cigars, as well as hookahs and pipes.
In addition, a smoker is defined as someone who has smoked more than four times in the last six months.
Now, the question is - Do health insurance for smokers have higher health insurance premiums?
And the simple answer to it is - Yes.
Smokers pay more for the same health insurance than non-smokers. One of the most obvious reasons for this is that smokers are more likely to develop a variety of health issues compared to nonsmokers. However, the premium amount varies depending on how many cigarettes a person consumes per day or week.
So, if you are a smoker, then it is of prime importance for you to safeguard your health and your savings by getting yourself a health insurance plan that is made for smokers.
Key Takeaways
The importance of health insurance increases in India as most people do not save enough money to cover the cost of health care.
PM-JAY is the largest health insurance program in the world which aims at providing ₹5 Lakhs per family annually for secondary & tertiary care hospitalization.
Employee health insurance (EHI) is the health insurance policy that a company provides to its employees.
In India, most health insurance policies cater to the emerging health needs of women with benefits like higher sum insured, cancer cover, Ayurvedic cover, etc.
Several insurance companies in India offer health insurance for smokers.
GroMo Insure- A brand under Vitrak Insurance Brokers Private Limited